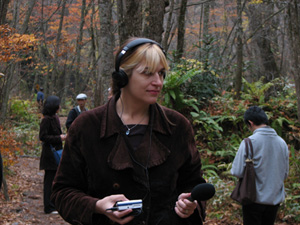 Polli, Andrea :
In her art practice, Andrea Polli explores perception, cognition, and human behavior. Global systems, the real time interconnectivity of these systems, and the effects of these systems
on individuals are the focus of Polli's creative research, which resides in the intersection between art and science. Currently Ms. Polli collaborates with meteorological and environmental scientists to develop systems of understanding the weather and the impact of climate on the future of human life. At Hunter College, New York, Polli is an Associate Professor of Film and Media as well as the faculty in the MFA Program in Integrated Media Arts. She received a Master of Fine Arts degree from the School of the Art Institute of Chicago. Her projects have been widely exhibited in the United States and throughout the world.Contact email andrea@andreapolli.com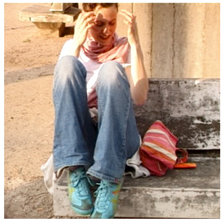 Kral, Christina:
Christina Kral is an audio-visual artist, experimental storyteller, collaborator, and grassroots documentatrice. She graduated from the University of Portsmouth in England with a European Masters of Media Arts and from the Merz Akademie in Germany with a diploma in Visual Communication.
Christina Kral is currently an artist in residence at Eyebeam, with a particular focus on youth participation models and ways of constructing narratives collaboratively (often via different video and locative media technologies). She has designed a series of story-telling experiments, using different forms of media investigating non-linear storytelling, and crossing the boundaries of storytelling, documentation and abstraction.

Feng, Sha Sha :
Sha Sha Feng combines the best of both the arts and technology to develop socially conscious media. She is a multimedia programmer and designer and holds a BA in Computer Science and Music and MFA in Integrated Media Arts. Her work includes a range of experiments which integrate web based art and open source technologies. Contact email
sfeng@hunter.cuny.edu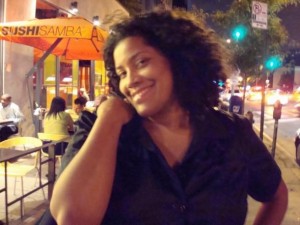 Connor, Zenobia
Zenobia Connor is currently developing an archive project which focuses on the role of sneakers in community building and the performance of race and culture. Empowering youth to become active history makers via archival interventions is the motivation that drives her program designs. A graduate of Spelman College, she holds an M.A. in Comparative Literature from SUNY-Binghamton and is working towards completion of an M.A. in Performance Studies at New York University.
Gallagher, Emily:
Emily Gallagher is a Smithsonian trained tour director and New York City history enthusiast who looks to intersect art practice and the urban environment.  New York City is a transmitter of human energy, struggle and triumph, and Gallagher believes that by coaxing the hidden and forgotten stories from cracks in the ground, we can capture, examine and understand the human condition, and build a better, more interesting future– a brighter layer on top of the cement.  Emily contributes to this vision by developing offbeat New York guided walks, and exploring ways of intervening with the traditional urban experience.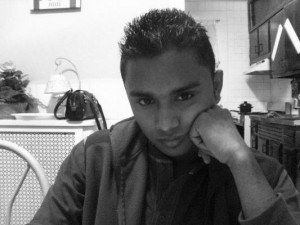 Ali, Kawsar:
Kawsar Ali is currently Bachelor of Arts Degree in Hunter College, NYC. Web Design and Graphic Design and Music is his main interest. For more info and contact visit i-exist
Web Production 2 class Fall 2008- Hunter College:
Joseph Akbrud , Ali Kawsar, Cortez Oscar, Christoffer Frazier ,
Patrycja Kollek , Alanna Lee, Ismael Manzano, Michael Medina ,
Shevon Prasad, Simona Rochard, Joanna Rozanska, Jacquelyn Smith ,
Alina Stobiecka, Gillian Taylor, Cindy Tran,Camellia Valenzuela-Morrell .
Student in residence at Eyebeam:
Antoneta Preldakaj
Karl Arnold
Kelly Jordan
Zenobia's Student:
Arianna Davison
Special Thanks to Peter A. Jackson, Senior CLT in the Department of Film & Media at Hunter College for technical advice and support.
Ke Ze Lui, media intern.